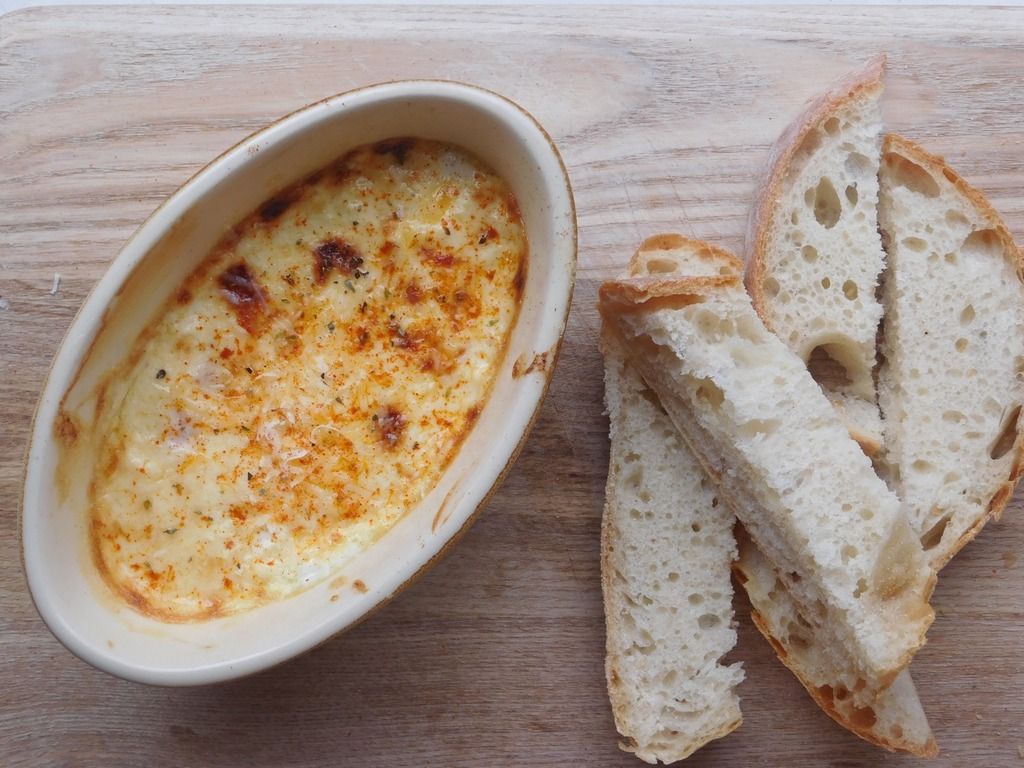 This is super simple to make and takes no longer than 20 minutes. So if you're in bed and hungover this Sunday, you need to get up, have an espresso and march out of your house to buy eggs, bacon, cream and cheese. This should feed two mildly hungry mouths, or one ravenous hungover monster. Double up if necessary!


Sunday Morning Baked Eggs
Serves 1-2 - 20 minutes
Ingredients:
• 2 eggs
• 1 rasher of bacon, cut into strips
• 2 tablespoons double cream
• 3 tablespoons parmesan (you could use cheddar but… don't.)
• 1 tsp dijon mustard
• Butter (to grease)
• Pinch of paprika and mixed herbs
• Sourdough (or whatever bread takes your fancy) to serve
1. Pre-heat oven to Gas Mark 4/180C/350F
2. Crack two eggs into your greased ramekin(s) (I used one approx. 15cm long)
3. In a bowl, mix cream, mustard, bacon and cheese (reserve some cheese to sprinkle post bake).
Tip - if you'd like your bacon on the crisper side, pan fry it for a couple of minutes before mixing in.
4. Spoon the cream mixture over the eggs. Try to keep your yolks visible. It should look something like this:
5. Bake in the centre of the oven for around 8 minutes, and finish under the grill for a further 2-5 minutes, depending on how soft you want your eggs. I slightly over cooked mine and this made me sad, hence no oozy yolk shots. Once out of the oven, you should be left with a molten pool of goodness like below. Sprinkle your left over parmesan, paprika and mixed herbs over the eggs and serve with chunky soldiers (I prefer mine not to be toasted, as pictured).
How do you like your eggs in the morning?

Love,
Katherine